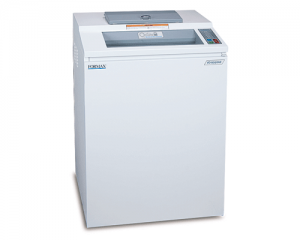 FD 8502AF Brochure
Key Features:
AutoFeed up to 175 sheets
LED Control Panel
Up to 11″ x 17″ paper
All-metal cabinet
16″ feed opening
Energy-saving ECO Mode
Optional oiling system
The Formax FD 8502AF AutoFeed Office Shredder features a dedicated AutoFeed Hopper which allows users to load up to 175 sheets, press start and walk away! No more standing in front of the shredder, hand-feeding small stacks of paper one after another.
The AutoFeeder has a capacity of up to 175 sheets, up to 11" x 17". The Standard Hand-Feed Hopper accommodates 22-24 sheets at a time, with a 16″ wide throat.
Commercial-grade features include an easy-to-use LED control panel with load indicator, heat-treated steel blades, a steel cabinet, lifetime guaranteed waste bin, and a powerful AC geared-motor ensuring years of reliable performance and information security in your office environment. In addition, the ECO Mode saves energy by automatically switching into standby mode after 5 minutes of inactivity.
To order, call us at (817) 421-9164