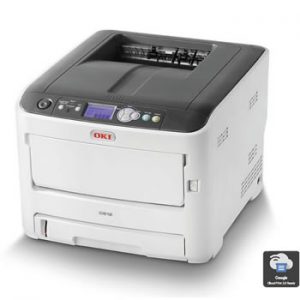 C612n Price: $649.00
C612dn Price: $789.00
Key Features:
HD Color LED printing technology with multi-level output quality
Flexible media capabilities including up to 52″ banners and a variety of heavy stock media
Security features protecting your documents, your devices and your network
Google Cloud Print 2.0 ready enabling printing on the move and direct printing using Local Mode
Only C612dn is ENERGY STAR 2.0 compliant
High quality and reliable printing for all your in-house printing needs.
The C612 offers flexible media handling, low cost of ownership and energy efficiency to produce top quality marketing collateral, educational materials and business graphics and documents – when needed, in-house and to tight deadlines. OKI's HD Color LED engine ensures stunning print quality, while the C612's enhanced security features protect your documents, devices, and network.
Advanced Connectivity
Businesses today don't have time for faulty connectivity and mobile print mishaps. That's why the C612 is Google Cloud Print 2.0 ready for direct printing using local mode, while employing a simultaneous connection of wired and wireless networks. Easily transfer large color files across the network with Gigabit Ethernet, especially with the addition of the optional high-speed wireless LAN module.
Security
Maintain document confidentiality with Private Print and reduce waste with the optional Card Release¹ The C612 is compliant with Internet Protocol Security (IPSec), ensuring that documents are sent and received safely.
Energy and Cost Savings
OKI's LED print engines offer an efficiency advantage² with higher reliability, less down time, and a longer lifespan. The C612's³ duplex printing system, as well as its Toner Save and Deep Sleep modes, helps reduce consumable costs, while conserving energy and time. When consumables do eventually run out, take advantage of OKI's free consumables recycling program for an eco-friendly print cycle.
Simplicity
What you print from your C612 may be colorful and complex, but the printer engine is built with simplicity in mind. LED printing itself evolved as a way to streamline the laser printing process, and OKI has perfected this technology to create a fast, efficient experience with premium results. The device is easy to set up and can be updated with ease from the OKI portal as updates become available.
¹Call for details
²Compared to laser printers
³Duplex optional on C612n
Specifications:
| | | |
| --- | --- | --- |
| | C612n | C612dn |
| sku: | 62447701 | 62447703 |
| Print Speed Mono: | 35 ppm | 35 ppm |
| Print Speed Color: | 33 ppm | 33 ppm |
| Duplex: | Optional | Standand |
| Duty Cycle: | 75,000 pgs/month | 75,000 pgs/month |
| Memory: | 256 MB | 256 MB |
| Resolution: | Up to 1200 x 600 dpi | Up to 1200 x 600 dpi |
| Interfaces: | USB 2.0 Device, 10 Base-T/100 Base-TX/1000 Base-T Ethernet; Wireless (Option) IEEE802.11a/b/g/n | USB 2.0 Device, 10 Base-T/100 Base-TX/1000 Base-T Ethernet; Wireless (Option) IEEE802.11a/b/g/n |
| Paper Capacity: | 400 sheets of 80gsm Standard (300-sheet Main Tray + 100-sheet Multi-Purpose Tray); 1,460 sheets Max (with Optional 530-sheet 2nd & 3rd Trays) | 400 sheets of 80gsm Standard (300-sheet Main Tray + 100-sheet Multi-Purpose Tray); 1,460 sheets Max (with Optional 530-sheet 2nd & 3rd Trays) |
| Paper Size: | Main Tray from 4.1″ x 5.8″ to 8.5″ x 14″; Multi-Purpose Tray from 2.5″ x 5.0″ to 8.5″ x 52″ banners | Main Tray from 4.1″ x 5.8″ to 8.5″ x 14″; Multi-Purpose Tray from 2.5″ x 5.0″ to 8.5″ x 52″ banners |
| Size: | 17.1″ x 21.5″ x 13.4″ (435mm x 547mm x 340mm) | 17.1″ x 21.5″ x 13.4″ (435mm x 547mm x 340mm) |
| Weight: | Approx. 59.5 lbs (27 kg) | Approx. 63.9 lbs (27 kg) |
| Power: | 120v | 120v |
To order, call us at (817) 421-9164