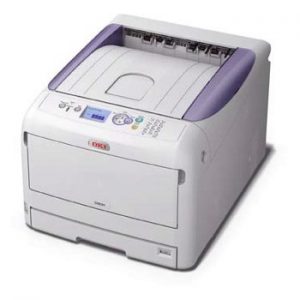 C831n Price: $1,699.00
C831dn Price: $1,929.00
Key Features:
Compact Color Tabloid/A3 printers—perfect for tight office space
Fewer interventions

High-capacity 10,000-page toner cartridges1
Long-lasting 30,000-page image drums2
Paper capacity of up to 1,460 sheets (with optional 2nd and 3rd paper trays)

HD (High Definition) Color printing technology and 1200 x 600 dpi resolution deliver rich color with vibrant tones and clear detail
Single Pass Color™ technology provides greater media versatility, enables printing on sheets up to 256 gsm
Advanced security includes data encryption, password protection, and secure printing of confidential documents
Robust and fast—with a remarkably small footprint. With C831 Digital Color Printers from OKI® you get the most advanced color technology in the marketplace, for printing on letter/A4, tabloid/ A3, even banner-size sheets up to 52″ (1.3 m). C831 Series printers deliver 35 clear, sharp letter/ A4 pages—or 20 tabloid/A3 pages—per minute in color or black & white, with the first page printing in as little as 9.5 seconds.3 At those speeds, you'll have more time to spend on what's really important: your business.
Breathtaking document output. HD Color Printing technology delivers stunning results from this compact, easy-to-use printer. The OKI process combines high-definition LED printheads that put color on paper with exacting accuracy; microfine high-definition toner to ensure that graphics are breathtaking, and text is sharp and crisp—even on ordinary office paper; a straight-through flat paper path that handles a variety of media, from heavy card stock to polyester film to long banners; and an advanced control system that constantly checks alignment, registration and color balance.
Do it all for less. Now you no longer have to depend on outside services for printing your high-quality color documents. Print whatever your business requires to meet your communications needs: manuals, catalogs, banners, proposals, business cards, photos, brochures, floor plans, and all types of presentation materials. Print everything on demand (when you need it), in-house and at an affordable cost.
Unmatched warranty support. OKI is so confident in the reliability of our C831 Series Digital Color printers that we provide a 1-year limited on-site warranty for parts and labor4, and back our LED printheads for an industry-leading 5 years. Optional warranty extensions are also available.4
Secure your document output – C831 Series printers include Secure Print features5 that encrypt job data, store it on the optional SD memory card, and completely purge and overwrite it when the job is printed. With PIN-number protection, "owners" of sensitive documents can use the C831 printer's numeric keypad to quickly and easily release their confidential output.
Monitor and control color printing – OKI Print Job Accounting software with the C831 Series allows you to restrict printer access to individuals or groups, and to manage printing within defined cost limits. It also provides you the ability to report on usage across the network, capturing information on volume, paper size, media type and consumables usage.
Its color access restrictions make color printing more cost-effective, allowing administrators to control printer usage by determining who and what can print in color, in black & white or not at all on your C831 printer. It also enables printer monitoring, letting you create job logs to analyze how a device is being used—by user name, applications used, and number of color or black & white pages printed.
The data can help you determine the effectiveness of your existing policies or to develop new ones.
Improve efficiency. Reduce environmental impact – C831 printers offer a range of features to reduce energy consumption, save you money and improve your carbon footprint.
These include a design that lowers power consumption, starting with LED technology that inherently consumes less energy:
Deep sleep mode – Reduces power consumption to less than 1W
Auto-off mode – Automatically powers off from Deep sleep mode, reducing energy consumption to 0.15W when not in use
Duplex printing (optional on C831n) – Reduces paper usage by enabling the user to print on both sides of the sheet
Toner save function – Reduces the amount of toner used when printing draft or internal documents
1 Declared yield in accordance with ISO 19798. All models ship with 2,500-page "starter" toner cartridges.
2 Estimated life, based on 3 pages per job.
3 Published performance results based on laboratory testing. Individual results may vary.
4 Available in the U.S. and Canada only.
5 Requires optional SD memory card.
Specifications:
| | | |
| --- | --- | --- |
| | C831n | C831dn |
| sku: | 62441001 | 62441004 |
| Print Speed Mono: | 35 | 35 |
| Print Speed Color: | 35 | 35 |
| Duplex: | Optional | Standard |
| Duty Cycle: | 75000 | 75000 |
| Memory: | 256 | 256 |
| Resolution: | 1200 x 600 | 1200 x 600 |
| Interfaces: | OkiLAN 10/100 Base-T Internal Ethernet Print Server; USB 2.0 | OkiLAN 10/100 Base-T Internal Ethernet Print Server; USB 2.0 |
| Paper Capacity: | 400 sheets (300-sheet Tray and 100-sheet MPT) | 400 sheets (300-sheet Tray and 100-sheet MPT) |
| Paper Size: | A3, Tabloid, A4, Letter, Legal, Executive, Banner (11.6″ x 52″), Envelope | A3, Tabloid, A4, Letter, Legal, Executive, Banner (11.6″ x 52″), Envelope |
| Size: | 17.6″ x 21.7″ x 14.2″ (449 mm x 552 mm x 360 mm) | 17.6″ x 21.7″ x 14.2″ (449 mm x 552 mm x 360 mm) |
| Weight: | 81.5 lbs. | 81.5 lbs. |
| Power: | 120v | 120v |
To order, call us at (817) 421-9164