M1 Color Printer ¦ AJ-5000 ¦ AJ-500 ¦ AJ-1000 ¦ AJ-2650/AJ-2800 ¦ AJ-3600/AJ-3800 ¦ IB-9000
Features of all Addressing Systems:
Print addresses, attention lines, postal barcodes, return addresses, and permit indicia
Supports Intelligent Mail Barcodes (IMB), the next generation of barcode technology that can lower your postal rates and allow faster delivery (includes USPS Delivery Point Barcodes)
Lightening speeds from 4,300 to 36,000 pieces-per-hour
Sharp, brilliant full color from 300 to 1200 dpi for striking graphics and crisp text
Meet all USPS® Requirements
Fit comfortably on desktop or tabletop
M1 Color Printer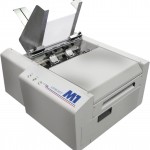 The M1 prints high resolution full process color faster than any other color printer in its class.
Key Features:
Print speed up to 7,500 pieces/hour
Full bleed color printing up to 8-1/2″ width, including envelopes, letters, invoices, cards, flyers and more
Materials up to 1/2″ thick
AJ-5000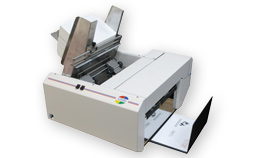 The AJ-5000 is an entry-level inkjet address printer with the ability to print in brilliant, full-process color.

Key Features:
Print speed up to 4,300 pieces/hour
Print area of 8.5″ x 14.0″, allowing printing of entire postcards, envelopes, flats, and documents in a single pass
Materials up to 1/16″ thick
AJ-500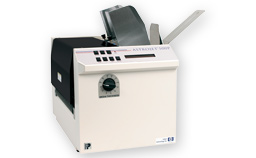 The AJ-300 and AJ-500 are fixed-head, entry-level inkjet address printers.
Key Features:
Print speed up to 30,000 pieces/hour
Print area 1.5″ X 14″
Materials up to 3/16″ thick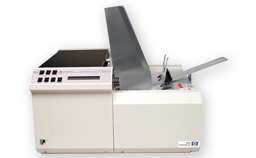 The versatile AJ-1000 has a split printhead configuration that allows mailers to print the recipient address, return address, and permit indicia all in a single pass.
Key Features:
Print speed up to 30,000 pieces/hour
Print area up to 4″ x 15″
Materials up to 1/4″ thick
AJ-2650/AJ-2800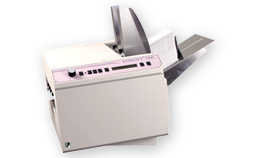 Print graphics, logos, and barcodes at up to 600 dpi with the AJ-2650, a six-head printer, and AJ-2800, an eight-head printer.
Key Features:
Print speed up to 36,000 pieces/hour
Print area up to 4″ x 17″
Materials up to 3/8″ thick
Process up to 750 envelopes at a time
AJ-3600/AJ-3800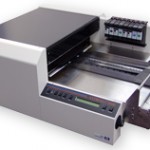 The AJ-3600/3800 are commercial-grade inline variable-feed printers, covering up to 4″ in a single pass. Their feeders are configurable as standalone machines, or integrated with folder-inserting equipment.
Key Features:
Print speed up to 36,000 pieces/hour
Print area .5″ x 15″
Materials up to 3/8″ thick
IB-9000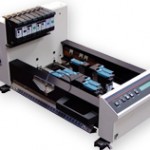 The IB-9000 address printer is built for flexibility and durability in the most demanding mailing environments.
Key Features:
Print speed up to 36,000 pieces/hour
Print area up to 4″ x 17″
Materials up to 1-1/4″ thick
Available bulk ink system for sustained print runs

For quotes and further information, please call (817) 421-9164