FP Mailing's top-of-the-line folder-inserter, the FPi 6600-2 can assemble and finish mailings at a stunning 4,300 letters per hour. It ensures that businesses with high volume mailing requirements can process even complex mail pieces efficiently and reliably. The 6600-2 makes configuration and operation easy with a generous 10.4" color touch screen and automatic job setup.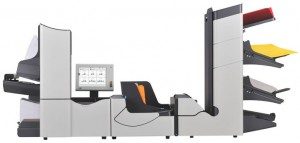 FPi-6600-2 Brochure
Key Features:
Automatically feeds, folds, inserts, seals, and stacks.
Processes up to 4,300 letters per hour.
Up to 7 feeder stations.
Holds 325-1,200 sheets per feeder.
10.4" color touch screen for simple, intuitive programming and control.
Handles up to 3,125 sheets and 1,000 envelopes in a single feed load.
Automatic Job Setup creates job settings automatically.
Program 50 jobs for recurring tasks with the touch of a button.
Reads coded marks on documents to automatically collate and insert pages with Optical Mark Recognition (OMR), Bar Code Reader (BCR), 2-Dimensional Data Matrix (2D BCR), Optical Character Recognition (OCR).
Patented Document Detection uses sensitive electro-mechanical monitoring to automatically and accurately detect double feeds and detect sets that are too thin or thick at the insertion point.
AMP – Analyze. Match. Print.
Eliminate complicated mailroom processes.
Analyze. Match. Print. (AMP) technology simplifies blind match mailings by analyzing document barcodes, matching the barcodes to recipients, and printing addresses onto plain windowless envelopes.
Increase production output.
Combined with FP's FPi 6600-2 Folder-Inserter, AMP eliminates costly manual matching and stuffing. AMP processes mailings more simply and quickly than other methods.
Reduce mailroom costs.
AMP's 2-in-1 technology eliminates the need for a separate printer and folder-inserter, running blind match mailing in-house at a fraction of the cost of other solutions.

Process up to 4,300 envelopes/hour
Compact size
Reads industry standard barcodes (2D and Code 39)
Microsoft Surface tablet and docking station
MS Excel database
Envelope design software
Uses up to 5 standard HP45 ink cartridges (black or spot color)
Print height 2.5 inches
Requires the FPi 6600-2 folder-inserter
For quotes and further information, please call (817) 421-9164