The PostBase Mini can process up to 17 letters per minute and is perfect for small businesses with light mail volume. It's the first and only small business meter to include IMI (Intelligent Mail Indicia), the U.S. Postal Service's most secure postage data and imprinting system.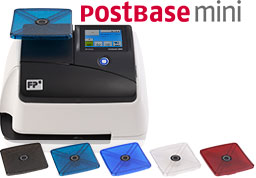 PostBase Mini Brochure
How it works: The Mini is a fast-operating hand-feed posting machine. When you insert an envelope, the machine holds the envelope, prints the required postage, and then releases the envelope.
Calculating & Printing Postage: Set the mail type (e.g. "First Class" or "Priority Mail"), place your mail piece on the integrated scale for weighing, and the machine will print the correct postage amount on your envelope or label. You can also manually set any desired postage amount.
Replenishing Postage: Simply tap a couple of buttons on the color touch screen and the Mini will download funds via the Internet from your USPS postage account, which is managed by FP.
Whisper-quiet operation
FP™ engineered the Mini from the ground up to be a quiet, polite office companion. Your coworkers won't even realize you're processing a batch of postage.
User-friendly color touch screen control
The modern color touch screen makes controlling and operating the Mini as easy as making a call with your smartphone.
Intelligent Mail Indicia (IMI) security
At launch, the PostBase™ Mini is the only postage meter available that conforms to the USPS Intelligent Mail Indicia (IMI) criteria. This gives the Mini the highest level of security, protecting your valuable postage from loss or theft.
Available high capacity (up to 70 lbs) external scale
The Mini connects easily to an external scale via free RemoteOne software, greatly expanding your ability to handle large package shipping.*
Smooth, reliable postage imprinting at up to 17 letters per minute
If you already understand the benefits of using a postage meter, you won't find a quieter, simpler meter in its class.
Five scale color choices
The 5lb integrated scale comes in five different colors so you can customize your PostBase™ to fit your office environment and personal style.
Competitive Comparison:

PostBase™ Mini compares favorably feature-for-feature with Pitney Bowes MailStation 2 and Neopost IS-280. When you factor in the Mini's easy-to-use color touch screen, smooth operation, legendary PostBase™ reliability, and award-winning design, we're confident you'll see PostBase™ Mini as the best choice in its class!
What does the Mini have that the competition lacks?

Color touch screen operation (like a smart phone)
Free RemoteOne software to enhance functionality
Optional ReportOne software with additional accounting & reporting
31% smaller footprint than Pitney Mailstation 2
150% higher capacity standard scale
Personalizing scale colors
Technical Specifications
| | |
| --- | --- |
| Hardware | PostBase™ Mini |
| Color touch screen | Yes |
| Letter thickness | 6 mm (0.23″) |
| Processing speed (letters per minute) | 17 |
| Integrated scale, capacity in lbs | 5lb |
| External scale (requires PC software) | Optional 30lb/70lb |
| Connection for software updates and postage download | LAN/Ethernet, Wireless Wi-Fi |
| Departmental security | Yes |
| Print resolution | 300 dpi |
| Imprints per cartridge | 1,900 |
| Dimensions (width/depth/height) | 12.2″ x 8.1″ x 9.1″ |
| Weight | 6.6 lbs |
| Software | |
| Portal access | Yes |
| RemoteOne (PC control software) | Yes |
| ReportOne (account management) | Optional |
| Accounts – Standard | 10 |
| Customizable meter advertisements | 3 |
| Presets (Shortcuts) | 3 |
| Free sample meter advertisements | Yes |
| Customizable SMS text messages | 2 |
For quotes and further information, please call (817) 421-9164